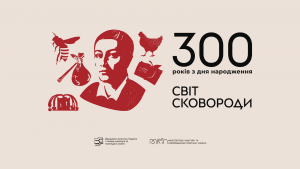 On December 3, Ukraine celebrates the 300th birth anniversary of the outstanding Ukrainian educator, philosopher, writer, pedagogue Hryhoriy Skovoroda. On February 6, 2022 – 300 days before the celebration – the Ministry of Culture and Information Policy of Ukraine presented the identity of the national campaign "The World of Skovoroda", the task of which is to convey the multifaceted image of Hryhoriy Skovoroda and involve Ukrainians in a new understanding of his legacy.
The department of social sciences of our university joined the popularization of the philosophical and creative ideas of Hryhoriy Skovoroda. The head of the department, assistant professor Olha Sikorska organized a round table entitled "Update of the theme of the activities of outstanding figures of Ukrainian culture:  philosopher Hryhoriy Skovoroda" for the teachers of the department.
At the end of October – beginning of November, the teachers of the Department of Social Sciences held a number of events in order to highlight the multifaceted creativity of Hryhoriy Skovoroda: they organized a preparation of reports by students, held quizzes, visited the virtual pages of the brand book of the "World of Skovoroda" project on the State Arts website, etc.
Our students actively supported the department's initiative and "walked the paths of a traveling philosopher": they prepared presentations, recited poems, read educational fables, remembered aphorisms, took part in a conversation on the topic: "Related work: medicine as a matter of life", during which they exchanged opinions about the importance of a thoughtful approach when choosing a profession in the field of medicine.
The philosophy and creativity of Hryhoriy Skovoroda, who is called the Ukrainian Socrates, greatly influenced his contemporaries and future generations. And today, on the Instagram page @skovoroda.today, you can recall his wise instructions.
"What you love is a real life!"
The information was provided by
Associate Professor of the Department of Social Sciences
Olena Uvarova