Reforms and modernization of public healthcare in Ukraine, permanent rise of medical care quality standards require an improvement of both theoretic knowledge and clinical experience of healthcare specialists.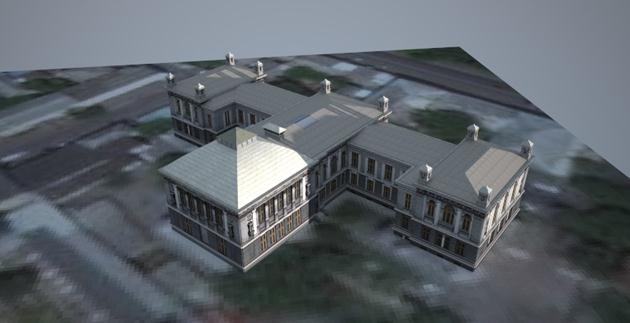 In previous years educational process at high medical schools had a lack of practical training aspect. This happens due to lots of obstacles – impossibility of some practical skills providing, absence of thematic patients, ethical and legislative limitations between students and patients. Thus, one of the most important goals of modern pre- and postgraduate education system is to create conditions for preparation of high-qualified medical care specialists – to train different practical skills without any patient related risk, improve decision making and implement knowledge into the practical work.
Therefore, simulation based medical education development is a new line in Ukrainian high medical school system.
Advantages of a simulation based medical training:
Clinical experience in a virtual environment without patient's risk;
Objective assessment;
Unlimited amounts of repeats;
Training of rare and life-threatening pathological state algorithms;
Virtual trainer as an instructor;
Stress descending during first manipulations;
Independence from hospital time schedule;
Improvement both individual practical skills and a teamwork.
First medical simulation center in Ukraine was founded in January 2014, at the Odessa National Medical University (ONMedU), and calls "Educational-innovative centre for the physician practical training". This center is equipped with modern facilities, that haven't analogues in Ukraine. Such methods as various fidelity level simulation, hybrid simulation and standardized patient are used for the educational process. The Centre has collaborations with leading medical simulation centers worldwide. Educational process at the Centre has a interdisciplinary approach and has a goal to provide healthcare specialists from Ukraine with high-qualified medical education in according to modern healthcare requirements.
Main goals of the Centre's educational activities:
Education quality improvement of medical care specialists, based on innovative training and assessment methods;
Scientific maintenance of educational system and assessment of various healthcare specialists competencies;
Scientific and investigational activities in the field of simulation based medical education;
Approbation and development of innovative technologies in the medical education system.
Educational-innovative centre is situated in a historical city part, at the medical campus, near the university. Overall area of the Centre occupies three levels of morphological wing with 1200 м2.
Who can train at the Educational-innovative centre?
Categories of potential trainees of the centre are students of high medical schools and medical colleges, healthcare specialists and non-medical specialists.
Thematic improvement courses for healthcare specialists are developed by staff of the Centre in such medical fields as intensive care, obstetrics and gynecology, surgery, neonatology, anesthesiology, gastroenterology, endoscopy, cardiology, neurology, ophthalmology etc.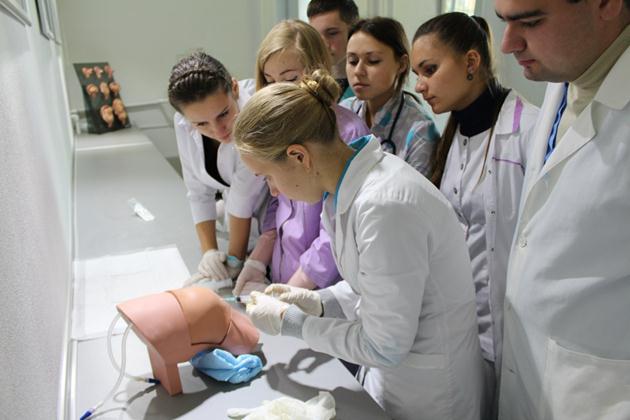 Training of healthcare specialists for qualified medical care delivering in military conflict zone occupies a special place in Center's education program. Special training course which allows preparing healthcare specialists either at the Center or at the movable Training Base in ATO ("anti-terror" operation) zone in Eastern Ukraine was developed for this purpose.
Special educational program were medical care delivering in extreme conditions and war conflicts were developed for physicians and nurses and also for those who haven't got a proper medical education (civilian order troops, rescuers, soldiers, seamen, policemen etc.).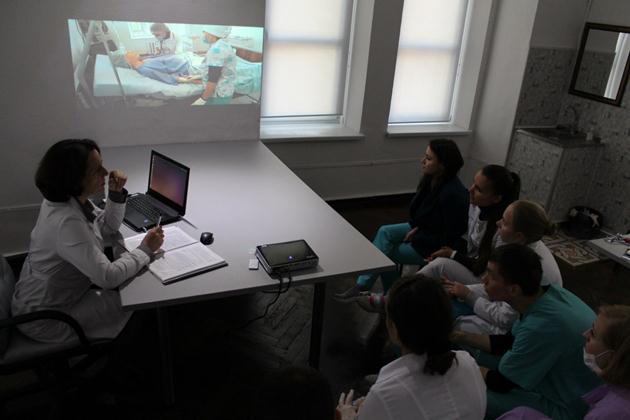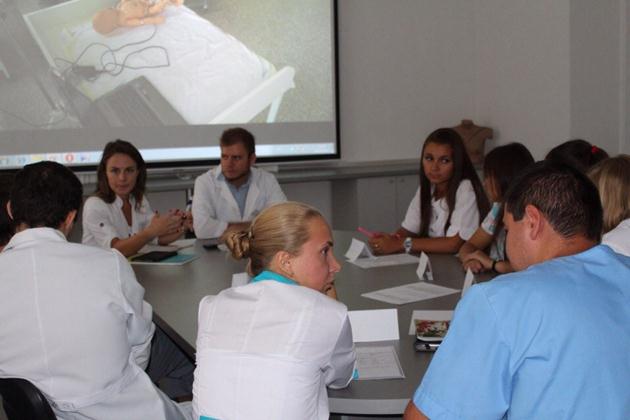 Today's Center possibilities allow performing a one-week course for 2500 healthcare specialists during the year. Training courses for 4-5 thousand healthcare specialists per year are expected in future.