Educational process in the ONMedU based on providing conditions that help to perform diagnostic and treatment procedures on simulators with instructors or mentors. There are different types of simulation trainings, depend on participants category, topic and goals:
Low and middle fidelity simulators with ultrasound assistance are usually used for practical skill trainings, such as
subcutaneous, intracutaneous, intramuscular, intravenous, intraosseous injections;
intravenous access, central line catheter;
urinary catheter insertion;
thoracocentesis;
laparocentesis;
pericardiocentesis;
nasogastric tube insertion;
lumbar punction at adult and newborn;
suture applying;
bandaging;
auscultation;
tracheostomy, conicotomy;
CPR with orotracheal and nasotracheal intubation.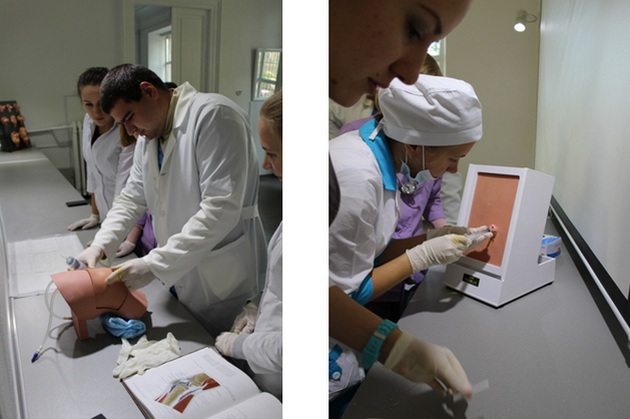 Simulation based training with high fidelity manikins
Department is equipped with high fidelity manikins – human patient simulators (HPS) that produce real human physiology: heart and lungs sounds auscultation (normal and pathological), peripheral pulse, pupil reaction etc. There is also a possibility of diagnostic, treatment procedures, CPR with real medical equipment (defibrillator, pulmonary ventilation!!!, ECG monitor), programmed physiological reaction on drugs  depend on dose and way of administration, use of virtual monitor with needed vital signs.
Special advantages of high fidelity simulators are wireless link "manikin-monitor-network", full autonomy; possibility of manikin transporting and any medical case reproduction (simulation in situ); possibility of any clinical event programming such as rare pathology and  events that hard to demonstrate in clinical practice.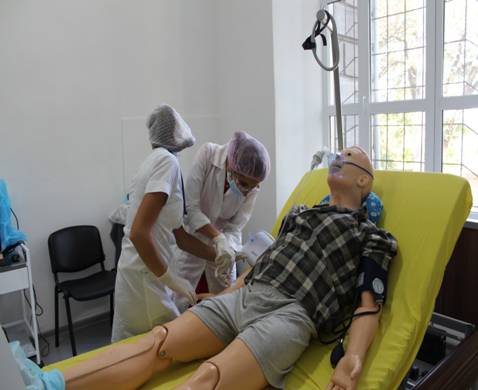 Virtual reality simulation
This department allows acquiring different surgical diagnostic and treatment procedures in general surgery, gynecology, urology and ophthalmology.   For those purposes we use the most modern virtual reality models that haven't got analogues in Ukraine. On first stages simple simulators for basic endoscopic skills training are used. Further trainee proceeds to different surgical modules and complete operations with specific haptic sense, surgical tools selection, operation algorithm with objective assessment of surgeon's activities.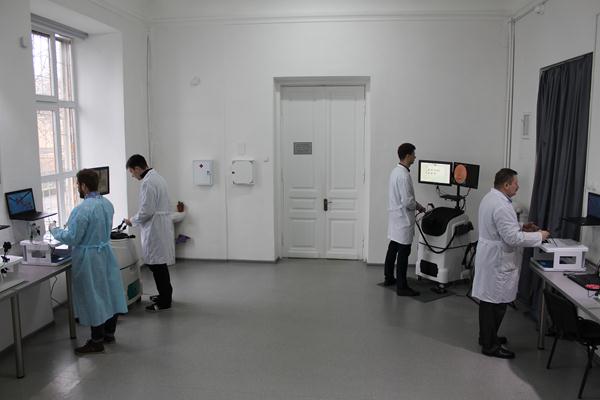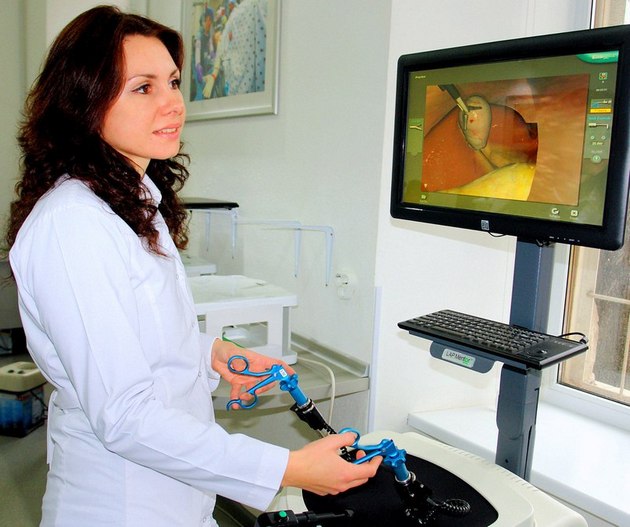 Virtual operating room can provide training for 12 trainees at the same time.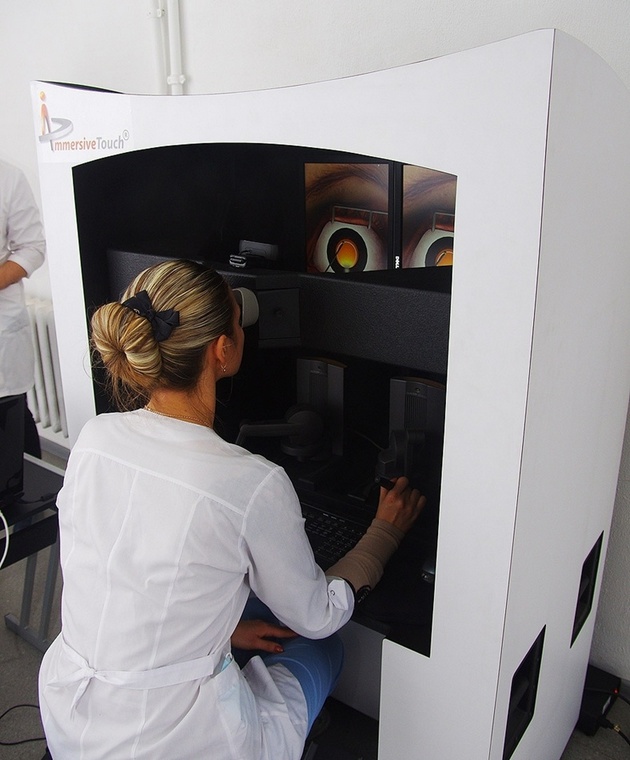 This method gives a possibility of acquiring communication skills with patient which role plays specially educated actor. He can imitate various pathological conditions, complaints. The goal of studying person is to ask patient about medical history, perform physical and instrumental examination, laboratory data interpretation in order to put a correct diagnosis.
Interdisciplinary training
This training allows rehearsing management of various pathological conditions in intensive care, pediatrics, anesthesiology, surgery, obstetrics and gynecology. There is also a possibility to create scenarios with situation progress, for example starting from home visit and finishing with operation room or also imitate scenarios with different ethical and law issues. Interdisciplinary training can be integrated as a part of team training.
Team training gives a possibility of synchronous performance of healthcare specialists from various fields (general practitioner, nurse; obstetrician, neonatologist, nurse; surgeon, anesthesiologist, nurse etc.). Such trainings help to optimize teamwork, improve interactions between doctors and nurses, teach to distribute duties of team members.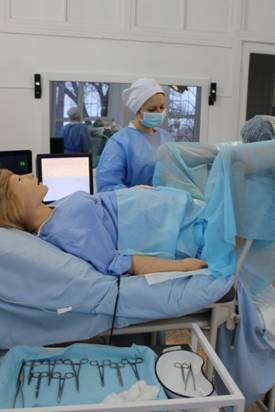 During the debriefing which finishes and supplements clinical scenario instructor with psychologist perform detailed action analysis of healthcare specialists and develop a structured guideline in each case.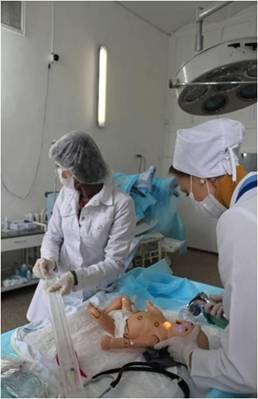 Psychological consulting and management
Psychological trainings carried out at the Educational-innovative centre aimed to develop self-regulation skills, stress steadiness, motivation to self-development, communicative skills and critical thinking of healthcare specialists.  As a result, there is a emotional effect, increase of participants' communicative competence, transfer of theoretical skills to a practice. These trainings have also a long-time effect of professional and personal competence increase, activate intellectual, motivational potentials.  This is possible because of purposeful use of special procedures, such as psycho technical, role play methods, group phenomena etc.