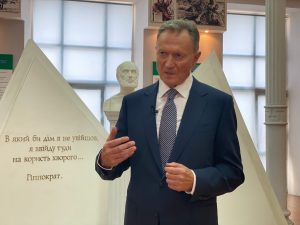 Odessa National Medical University continues to transform the educational process taking into account the anti-epidemiological situation, keeping the focus on quality student training and internal communications. This was stated by the rector of ONMedU, the chairman of the Academic Council, Academician Valerii Zaporozhan at the meeting of the Academic Council.
He stressed that currently students study in a blended education system. The university adapts the educational process to quarantine restrictions. In particular, new cycles of study are introduced for students, the number of hours of work in simulation classes is increased, and personal contact of students with patients in clinical bases is limited.
At the same time, Valerii Zaporozhan encouraged teachers to take care of maintaining quality communication with students. "We have to remember that we are not only teaching students, we are also educating them. In the remote format it is difficult. Therefore, I urge everyone to be as communicative as possible, to maintain live contact through the site, social networks. So that students can not only receive formal learning materials, but also feel supported, given the authority of teachers, to choose the specialty to which they are willing to dedicate their lives. We must not lose our inner unity, the feeling of a single university family, "Valerii Zaporozhan addressed the Academic Council.
The rector also instructed vice-rectors, heads of departments and departments to pay special attention to internal audits currently underway at the university: "This is necessary to draw a line under last year and outline the directions of our scientific and creative work for 2021."