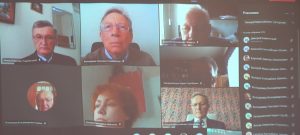 A Council of Academic Mobility and International Cooperation was established at ONMedU under the chairmanship of the Rector and Chairman of the Academic Council Valery Zaporozhan. The decision was made at the meeting of the Academic Council, which took place on February 26.
The Council will act on a voluntary basis. It includes five employees of ONMedU, specialists in international cooperation from departments, dean offices and other structures of the university.
The purpose of the Council is to increase the international image and scientific potential of the university. It will take care of strengthening the academic and international work of the university. In particular, creation of an information technology database on opportunities for student academic mobility, participation in international projects, programs, grants, competitions, etc. It will ensure equal access of teachers and students to research, academic, medical and pedagogical innovations of Ukraine and the world. It will involve students and staff into international programs of internal and external mobility: Erasmus Mundus, Erasmus +, TEMPUS and others.
The Academic Council approved the draft regulations of the Council and appointed its head – a lecturer of the Department of "Practical Psychology" ONMedU, a specialist in international law Valentyna Bondarchuk. "Valentyna Borysivna has two higher educations, she worked at the Ministry of Foreign Affairs for more than 10 years – in the central office, in the embassy in Austria, in our representations at international organizations. She is fluent in German and English. She can do a lot to improve the image of the university at the international level. I believe that attracting new students and partners will be her main task in this position,"said Vice-Rector for International Affairs Konstiantyn Rzhepishevskii.