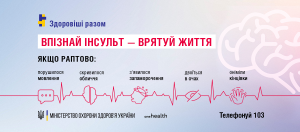 On October 29, the world celebrates World Stroke Day. Unfortunately, strokes have become not only common in everyday life, every year more than 100,000 Ukrainians, a third of whom are under the age of 65, become victims of stroke.
The importance of the fight against strokes has gained global importance, because it is one of the main causes of mortality worldwide.
Let me remind you that a stroke is an acute condition during which the blood vessels of the brain are affected. A stroke occurs when a blood vessel that carries oxygen and nutrients is blocked by a blood clot ("plaque") or ruptures. When this happens, a part of the brain cannot receive the supply of oxygen and nutrients, as a result, the death of its cells begins.
Currently, Ukraine also has a fairly high mortality rate and disability after stroke, compared to European countries. Among the main reasons are late diagnosis and outdated patient routes.
For many years in a row, there was a practice where an "ambulance" took a stroke patient to the nearest hospital. However, the nearest hospital does not always have the necessary facilities, specialists and equipment for the diagnosis and treatment of such conditions. Because of this, the patient and doctors lose precious time. After all, stroke requires urgent medical intervention. A person with signs of stroke who receives help from doctors within the first 4.5 hours has a better chance of returning to a full-fledged life and avoiding serious and irreversible consequences.
In the summer, the Ministry of Health launched the next stage of medical reform, which will change approaches to the treatment of strokes. A capable network of medical facilities with stroke centers and units will be created. It is these institutions that will have cardiology units that will allow the use of modern treatment methods, such as thrombolysis and thromboextraction. Also, in such medical institutions there will be opportunities for the necessary rehabilitation, which will enable the patient to return to normal life.
The medical guarantee program, thanks to which patients can receive free treatment, continues to work during the war. Patients, as before, can receive free medical care, for which the state pays medical institutions. Ukrainians who – due to hostilities – were forced to move to other regions of the country, can receive the medical care they need at their actual place of stay, the place of registration is irrelevant.
Among the free services that are guaranteed to a patient with stroke or a suspected stroke:
primary examination,
urgent computed tomography or magnetic resonance imaging,
laboratory and instrumental studies.
The free package also includes:
– thrombolytic therapy, including the necessary medications,
– endovascular treatment (minimally invasive surgery of brain vessels),
– neurosurgical assistance,
– drugs from the National List
The National Health Service of Ukraine also pays for secondary stroke prevention, hospital meals and medical rehabilitation.
Timely medical assistance is one of the determining factors in the success of stroke treatment. Therefore, knowing the signs of a stroke and the rules of first aid can play an important role in preserving the life and health of the victim.
The development of a stroke can be accompanied by symptoms that appear suddenly. You can remember them using the abbreviation BRAIN-Time.
Speech – ask the person to repeat a simple sentence after you and follow a simple command. With stroke, the pronunciation will be slurred, confused, or the person will not understand the command you asked them to perform.
Face – when one side of the face undergoes visual changes (for example, drooping). Ask the person to smile. If they have stroke, they won't be able to do this or their smile will be asymmetrical.
Dizziness – the appearance of a complaint of sudden dizziness, unsteadiness of gait, loss of balance, coordination of movements in an arm or leg.
Eyes – a person has a sudden loss of vision in one or both eyes, for example, double vision may appear when looking at objects.
Extremities – weakness or numbness, inability to raise and hold both arms or both legs at the same time, limbs on one side become weaker
Time – if you notice one of these symptoms – urgently call an ambulance.
The best way to reduce the risk of stroke is prevention.
follow a healthy diet: eat vegetables and fruits every day, limit salt intake. Eat foods low in trans fats.
be physically active. Even moderate physical activity will help control weight and maintain health.
give up smoking and drinking alcohol.
monitor blood pressure.
Check your cholesterol and blood sugar levels as recommended by your doctor.
It is important: if the situation has already developed in such a way that pressure control requires medication correction, daily medication should not be neglected. Medicines must be taken constantly and without fail. Often, patients have the wrong idea that they are taking medicine "for pressure" and, accordingly, they should be taken only when the pressure is higher than normal. It does not. Treatment of hypertension should be daily and lifelong. Regular medication significantly reduces the risk of stroke.
In addition, the state, thanks to the current Medical Guarantee Program, provides patients with "Affordable Medicines", which can be obtained at a pharmacy for free or with a small surcharge. Patients who require outpatient treatment of cardiovascular diseases can obtain a prescription for "Affordable Medicines" from a primary care physician, regardless of the presence of a declaration with him.
The ongoing full-scale war unfortunately limits the access of patients from occupied territories or war zones to certain medical services and increases the burden on the medical system, which is faced with new challenges.
However, everyone can take care of their own health by giving up bad habits, ensuring the necessary physical activity and being attentive to themselves.