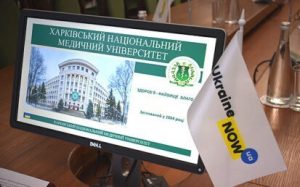 On January 24, 2022, a brief meeting was held with Angela Yuriyivna Stashchak, Head of the International Relations Department of Kharkiv National Medical University.
The importance of strengthening international activities aimed at enhancing the capacity of universities as national institutions with a high reputation in European and global education and health systems was reiterated.
The issues of further development of cooperation between our universities were discussed at the meeting. In particular, the following issues were considered:
Development of the program of internal (national) mobility of both Ukrainian and foreign students, which will include exchange and mutual certification of students and specialists – in particular in the form of internships, organization of joint conferences and other scientific forums, visits to summer student camps.
Participation of ONMedU students in the seminar – training in simulation medicine, which is planned to be held in April-May 2022 in conjunction with Zaporizhia State Medical University.
Participation of ONMedU international relations specialists in the forum on internationalization of medical education in Ukraine, which is also planned to be held at the end of April 2022.
We invite all heads of departments to participate in the preliminary discussion of the potential participation of students and staff in these events and other possible projects of cooperation with KhNMU.