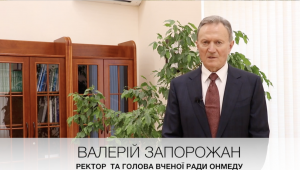 Development of Odessa National Medical University requires joint efforts and responsibilities of teaching, medical and student teams. This was stated by the rector of ONMedU, Academician Valerii Zaporozhan, summing up the meeting of the Academic Council.
Due to quarantine restrictions, this is the first meeting that took place offline in the last year. And although the university continues to strictly adhere to safety rules, the mere possibility of live communication increases motivation and shared results. "Today we have gathered face to face in this hall and, as in previous good years, we have the opportunity to smile at each other, talk, restore the usual mode of work of the Academic Council. It is very important not only in terms of efficiency, but also the realization that our Alma Mater is a single family. We are united by a common vision of the future university, a common understanding of how to improve the educational and therapeutic processes. This joint work and responsibility is the key to development, "Valerii Zaporozhan said.
At the meeting, the Academic Council summed up the results of the academic year, considered the tasks of preparation for exams and accreditation of ONMedU, analyzed the problems and successes of university clinics. Currently, a pharmacy is being created on the basis of the Faculty of Pharmacy, which will serve the departments and university clinics. The meeting approved the plan for the organization of this training pharmacy. In addition, a plan to renovate "Medic" sports and recreation camp, which belongs to the university, has been approved. "Our health camp has existed for more than 60 years, it is not modern for a long time and needs serious changes. We have approved a plan for the renovation of the camp, on the basis of which facilities will be created for student education, rehabilitation of patients and students. "Our "Medic" must become a modern European camp," the rector emphasized.