A new academic year has begun in Odessa universities, as well as throughout Ukraine. For now the classes are held in person, but epidemiologists predict an increase in morbidity in the fall. Rector of Odessa National Medical University Valerii Zaporozhan said whether the university is ready for a possible lockdown, what  the results of the admission campaign are and how the pandemic affected the labor market in the field of health care.
How many freshmen entered ONMedU?
Odessa Medical University is one of the most popular among entrants in the Southern region. Therefore, we received a lot of documents for admission. But, of course, not every entrant could be enrolled. We have a total of 457 freshmen. Of these, 220 students will study on a budget basis. This is slightly less than we expected. But here we should keep in mind the rather high passing score of the External Examination in Mathematics this year – 150. This subject, is, unfortunately,  not taught at the proper level in all schools.
For foreign applicants, the admission campaign lasts until October 31.
If we talk about the most popular specialties, the ranking of faculties, as in previous years, was headed by medical, then dental and pharmaceutical.
Many entrants submit to our university the original documents. They want to get a higher medical education here in Odessa. Why? We offer our students training at 60 departments and practice in a university clinic under the guidance of top-level specialists, professors and doctors of sciences. We have 3 modern and fully equipped medical institutions with 617 beds. But before approaching the patient, all students are first trained in simulation classes to learn to act flawlessly in the most emergency situations.
Can all out-of-town students apply for a dorm room? Do they need to be vaccinated against COVID-19 for this?
We provide rooms for everyone. Moreover, applications for settlements are submitted online on a special website. After registration, the student receives a letter with all the necessary documents that need to be printed and signed.
The university strives to create comfortable living conditions so that nothing distracts students from studying. Therefore, every year in the planned mode we carry out current and capital repairs in educational buildings and dormitories. Last year, UAH 13.2 million was spent on these purposes. And this is not budget money, but the university's profit.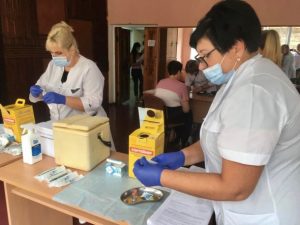 Has the academic year started offline?
Yes, now we are engaged in face-to-face format. I would like to thank the Ministry of Education for recognizing the autonomous status of universities not in words but in deeds and giving us the opportunity to determine the format of classes. Fortunately, Odessa is in the "green" zone, and we have the opportunity to have classes offline, gather in classrooms and conduct the usual educational process. Of course, with distance, mask mode. We also carry out mass vaccination of our students and staff.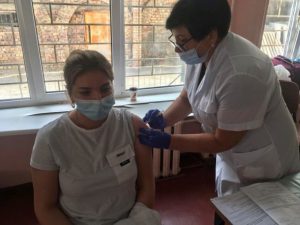 It is predicted that Ukraine will  have a difficult autumn with a possible repeat of  lockdown. Is the university ready for this?
Yes, and we showed it last year. The team quickly orientated and adapted to the new conditions. The fact is that we followed the path of digitalization even before quarantine. We started implementing some elements of distance learning in 2012. Therefore, our students continue to study and successfully pass exams in any circumstances. If in the current academic year there is a need to move to distance learning, Odessa Medical University will do it. We are ready for any scenarios.
Like many European universities, we use the Moodle platform to test and publish scientific and methodological materials. Last year, our electronic system for conducting the Objective Structured Clinical Examination (OSCE) was finalized – a unit for remote assessment of students was added. This helped us to conduct final certification at medical and international faculties remotely. We actively use Office 365 and Microsoft Teams services for teamwork. We fill the university YouTube channel with video lectures and videos demonstrating practical skills.
We are constantly updating the library fund. Last year they bought 7.5 thousand new textbooks in Ukrainian and English on anatomy, pathomorphology, physiology, dentistry, pediatrics, pharmacy, internal medicine and others. The general fund is approaching 850 thousand copies. Our pride is the electronic library and institutional repository. Our faculty and students have access to international electronic knowledge bases: ScienceDirect, AccessMedicine, Hinari, British Medical Journal, Springer, EBSCO, Cochrane Library, Web of Science and Scopus resources.
In a word, ONMedU creates such conditions under which motivated students can study continuously.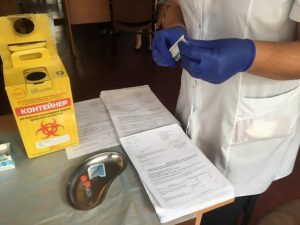 Are any innovations planned this year in the context of curricula and certification?
Our university is constantly in the process of transformation. For us, stopping means ceasing to be competitive. For example, last year, students scored slightly worse on the OSCE than in 2020. This is a signal: at some stage the training system is "sinking". The team went on summer vacation with the task of analyzing the work, to identify "bottlenecks". We are now analyzing the collected proposals, and this is our standard algorithm for improving the learning process. Students also play an important role in it. We have moved from the student-administration paradigm to the model of equal partnership. There is an internal hotline, which anyone can contact with a complaint, suggestion, share an idea. And I can say that many such appeals eventually took shape in the decision of the Academic Council and the Rector's Office.
During the quarantine last academic year, the simulation classes did not function. Is their work resumed now?
Professional training of a doctor at Odessa Medical University is based on a competency-based approach, when, along with theory, each student develops practical skills on simulators. Fortunately, interdepartmental simulation classrooms are again available to our students. They are equipped with robotic mannequins that mimic a real patient – an adult or a newborn. With their help, students study internal medicine, surgery, pediatrics, neonatology, learn to work with emergencies.
What are the advantages of this approach? First, a student cannot start an internship in a clinic until he or she has completed an excellent simulation unit. Therefore, students approach their first real patient as well as possible – not only practically, but also psychologically. Second, evaluation in simulation classes is completely objective. The mannequin responds to a medical error in the same way as a human being – by stopping breathing, heartbeat, discoloration of the skin, and so on. If this happens, so the student goes to a retaking, the teacher can not influence it in any way. The ultimate goal in training is the competence that every graduate knows and is able to professionally provide assistance in any clinical situation.
Given the difficult anti-epidemic situation, has the demand for ONMedU graduates in the labor market increased?
Our graduates are in demand both in Ukraine and abroad, and it's not just a pandemic. The University has a Commission to promote the employment of graduates. In addition to career guidance, it monitors the needs of the health care sector in personnel, develops partnerships with medical institutions to employ graduates in the first job, and quickly collects vacancies.
The University is developing an international partnership, in particular for exchange programs. We have concluded 57 agreements on cooperation with international organizations and universities. In 2020, 45 of our employees did internships abroad. More than 50 scientific works of our students were presented at foreign conferences and forums. The opportunity to participate in such events and express yourself is very important for young professionals, especially in the context of future employment.