Many universities in the USA, Canada, Australia and European countries offer programs for international students, which may include subsidized internships or scholarships for refugees from Ukraine.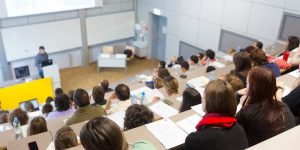 Useful links to find free education abroad:
State educational initiatives of partner countries of Ukraine
It is worth knowing that assistance to Ukrainian students can be offered not only by educational institutions, but also at the state level.
Latvia
Latvian universities continue to support Ukrainian students. The Government of Latvia allocated 688,000 euros to provide scholarships to Ukrainians for study and research until December 31, 2023. As reported by the Study in Latvia resource, during the current semester (from January to June 2023), Ukrainians received 92 educational scholarships and 20 scientific scholarships in the amount of 259,880 euros. Applications for the next academic year will end on September 15, 2023. Ukrainian students of Latvian public and private higher education institutions can receive a scholarship in the amount of 140 euros per month. Universities can also offer Ukrainian scientists internships without remuneration, while the state can provide a research scholarship in the amount of 900 euros per month.
Czech Republic
Study in Czechia is  platform very similar in content. On a separate tab for Ukrainians, you can find information about scholarships for students at various universities, offers for scientists and educators, as well as simply useful links for the life of Ukrainians in the Czech Republic. To decide on a university, you need to click on the tab with the city in which you would like to study.
Finland
The project to support Ukraine of the Ministry of Education and Culture of Finland HERE Ukraine! offers free tuition at three universities of applied sciences: Haaga-Helia, Laurea and Metropolia. These are two-month online courses, upon completion of which you can receive a certificate and use it to obtain a bachelor's or master's degree at Ukrainian universities or other universities in Finland. They offer educational courses in physiotherapy, social services, real estate and construction, tourism, as well as nursing courses. Some of these classes have been running since March, and some will start in May or Fall 2023. To study for free, you need to be in Finland under temporary protection. Under the description of each course there is a link to the registration form.
Slovakia
FreeStudent is a program which provides for free education of Ukrainian students in the Slovak Republic for free. The project has been working for 8 years with the assistance of the Slovak-Ukrainian cultural and educational society. The program has a Ukrainian-language website where you can immediately apply for admission. Nine universities are participating in the program, including the University of Pavlo Jozef Šafarik in Košice, the University of Musical Arts in Bratislava and the Košice State Technical University.
Poland
Polish National Agency for Academic Exchange Issues NAWA offers Ukrainians to continue obtaining higher education in universities in Polish or English. So far, the website has published data on free education during the 2022-2023 academic year, but you can find general information with contacts and necessary documents for admission.
Free education from UNICEF Ukraine
The Ministry of Reintegration of the Temporarily Occupied Territories of Ukraine reported that UNICEF Ukraine offers 5 European grants for students, postgraduates and teachers in universities of different countries. These are annual grants offered to all countries of the world and have very high selection criteria.