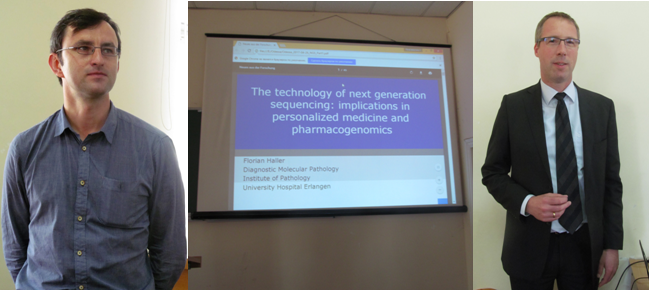 On April 26-27, the teaching personnel and students of ONMedU were lucky to get acquainted with the latest scientific experiments of our colleagues from Germany, Florian Galler and Yevgeny Moskalev – a School-seminar was organized on: "Modern direction of personalization of molecular medicine: sequencing of the new generation and epigenetics in diagnostics, prognostication and targeted therapy in oncology" in the lecture hall of the Department of Biophysics, Informatics and Medical Equipment of  Odessa National Medical University.
During the School-seminar, Florian Galler (Professor, MD, Head of the Laboratory of Diagnostic Molecular Pathology at Erlangen-Nuremberg University of Pathology Institute) presented his experience on "Application of New Generation Sequencing Technologies in the Diagnosis of Oncological Diseases" and "Individual Selection of the Target Therapy and evaluation of the risk of developing cancer ". Yevgeny Moskalov (PhD in biology, a researcher at the Laboratory for Diagnostic Molecular Pathology at Erlangen-Nürnberg University Pathology Institute) shared his knowledge in the lecture on "Functional Role and Detection of Epigenetic Aberrations in Cancer. Aberrant DNA Methylation as a Bio-Marker of Cancer. "
We are very grateful to our respected guests for giving such invaluable information and kindly invite them to come to us again!