To the attention of the scientific community!
Well-known Dutch publishing house Wolters Kluwer – continues free access for users of Odessa National Medical University to the collections of medical and biomedical information resource Hinari.
We remind you that Hinari Program, created by WHO, together with leading international publishers aims to provide access to the world's largest collections of scientific biomedical and medical literature. Hinari currently has more than 21,000 magazines (45 in different languages), about 69,000 e-books, and 115 other information resources.
Links to use:
​ https://www.who.int/hinari/en/
​ https://portal.research4life.org/content/hinari
​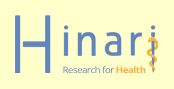 Good luck with your information search!
Take care! Everything will be Ukraine!